I love a wooden cable spool. Does that sound weird? Well, too bad, because I am going to say it again: I love a wooden cable spool. I love the way they are shaped and the way they look. The very design makes them perfect for upcycling project, and while I have never done one myself, I have a couple in my garage that I am already planning to use for additions to my DIY home.
For awhile I was procrastinating on actually getting started. You know how it is; you have a lot of ideas, but none of them stick out enough to settle on. So you stash away the materials and before you know it your spouse is threatening to throw them out if you don't do something with them soon. Or maybe that only happens to me, but I like to believe that isn't the case.
Four wooden spools sit in my garage as I type this, and all four need to be made into something or my husband is going to toss them right in the dumpster. Which is what sent me in a scramble for ideas on the internet that were both cool and simple enough for me to make a light project out of.
Luckily, I hit the jackpot. After seeing these five examples of reused cable spools, my inspiration has been ignited and I know just what I am going to do with each one. Now all I need to do is find one more so I can do all five!
I saw a ton of tables that were made from cable spools while I was searching. They were all pretty nice, but the rustic look of this one really caught my eye. Of course, I won't be able to make one so large as all of my spools are only half the size. But I still think they will come up well, and obviously not much work was required to make this idea a reality. I am still secretly hoping to find an enormous spool I can take home to make an actual kitchen table out of. Until then, I am making a small drink table for my porch.
If you are looking for something a bit more complicated, this one could be for you. Notice how they have only used one side of the spool and attached it to sturdy metal legs. I like the look of the polished wood under the glass, and the way it highlights the planks. You would have to be more advanced with your furniture making skills with this one. I am not so lucky as to know how to do that, so I am planning on showing it to a friend of mine who does, and seeing what she thinks about helping me.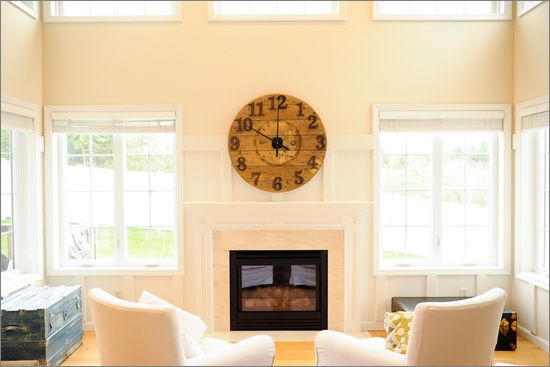 Not once in all of my spool dreaming did I think to make a wall clock. The look of this is so cool, with an old fashioned touch thanks to the wood. I would imagine any clock making kit and a drill could handle the job. As for the numbers, if you take the circle with you to a hardware store you should be able to find the right side that would have normally sat on a door or the side of a house.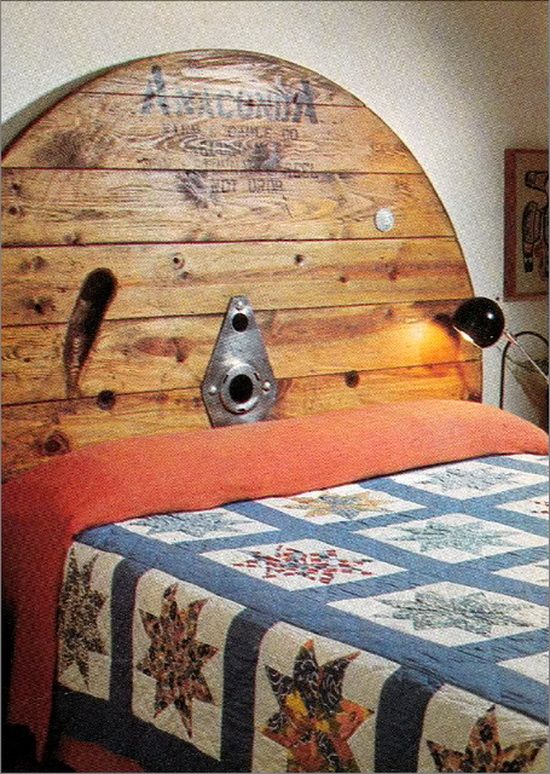 Again, this would require a bigger spool to make it work. But I have a daughter who is about to move to a toddler bed that has a mattress that would be just right for the size I have on hand. So the possibilities are there, and if you manage to get a really large one you might be able to link it with a twin or even full size mattress. If you are really wanting a headboard for a queen or king, you could always put two sizes together.
Of all of the things I have seen, this is the coolest and most creative. It is a rocking chair made entirely of a spool, large enough to fit an adult of average size. It doesn't look that comfortable to me, but you could always add in a couple of cushions. As long as you made sure to sand down and gloss the wood well, you should be fine.
Featured images:
 

License: Image author owned

 

License: Image author owned

 

License: Image author owned

 

License: Image author owned

 

License: Image author owned
Annie is the excited blogger and editor or DIY Gadgets blog